Take a walk down the back streets of any inner Sydney suburb, and you're likely to come across rows of 19th-century terrace homes embellished with ornate iron lace.
In their original state, these houses tended to be dark, poky places that lacked the natural light, cross breezes, and easy flowing layouts demanded of 21st-century architecture. Outdoor spaces, if there were any, were often no more than a skinny balcony and tiny courtyard.
In Pyrmont, the once-gritty industrial hub turned fashionable harbourside neighbourhood, a new collection of homes is putting a luxurious contemporary spin on the historic terrace form.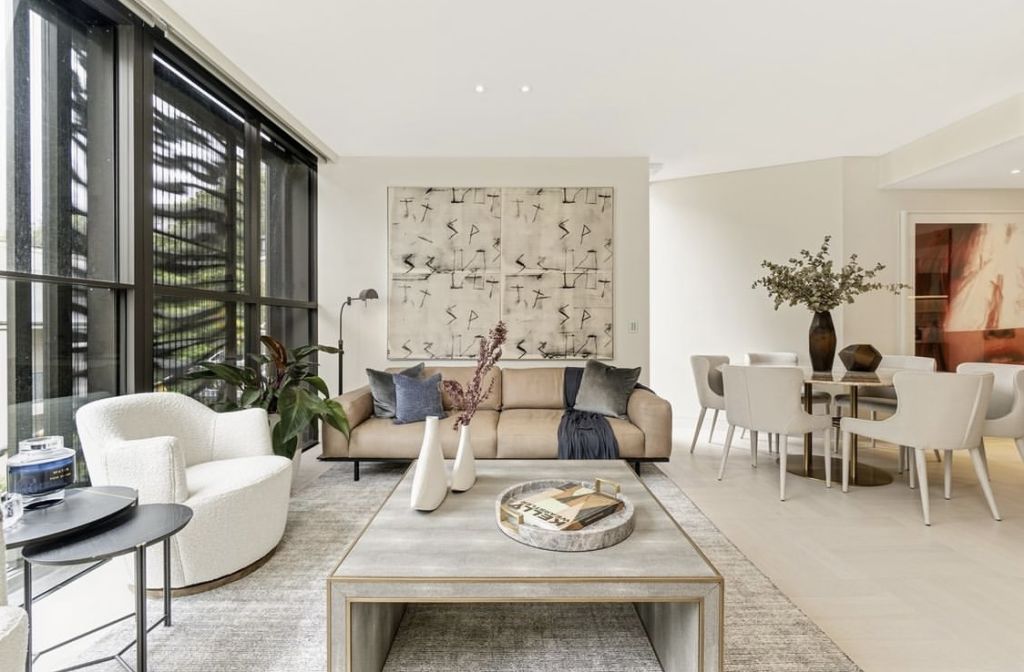 Paragon of Pyrmont by developer Third.i is a collection of 33 apartments and terrace homes, of which fewer than 10 terraces are still available off the plan. The newly completed terraces offer modern multistorey living with lift access from basement garages to all four levels, as well as private landscaped rooftop entertaining areas with sleek outdoor kitchens.
SJB's architecture draws on the rich heritage of Pyrmont, which is still dotted with reminders of the wharves, sandstone quarries, factories and wool stores that once thrummed with life on the south-west fringe of the CBD.
Architect Adam Haddow, a director at SJB, says the homes fit with the rhythm of the streetscape without trying to be "historical".
"You get the rhythm of a terrace house, with that small-scale repetitive nature, but this builds on it in a contemporary way," he says. "One of the negatives about old terraces is that they are pretty dark, with small windows. Here, you have the inverse, with a really great opportunity for light and ventilation and operability of windows."
Though the homes are not designed specifically for downsizers, they embrace many qualities prized by older buyers moving out of large family homes. The palette of materials, for example, is unashamedly high-end without pushing the envelope in terms of drama or edginess.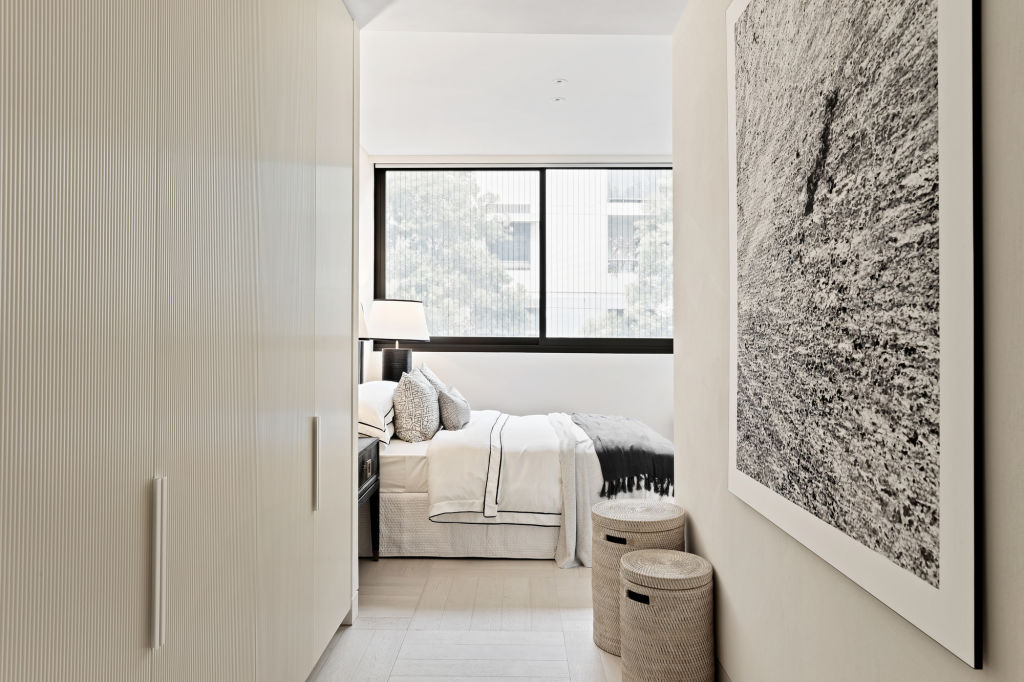 From the outside, bronze mesh screens and copper surfaces shimmer against the lush greenery of the common areas and a new public walkway that runs between the buildings. The interior architecture is designed with double-height voids, setback slabs, and skylights to ensure daylight penetrates the living spaces.
"There's beautiful marble in the bathrooms, stone floors in the entries and timber floors in the living rooms," Haddow says. "It's a very quiet palette that gives people an opportunity to move in with their furniture, without it clashing. We made the interiors really calm so that when you step inside, there's a change from the energy of the street."
Private lift access to each level makes the terraces a viable long-term option for downsizers with mobility issues now or in the future. Elegant spiral staircases add a sculptural flourish.
Residents have some flexibility in how the layout can be used. Owners may choose to turn the entry level into a home office, for example, or guest accommodation.
"If a downsizer is still doing some work, they can have a study on one level and live on the other levels. It's connected to the house, but it still feels like its own space," Haddow says. "Equally, if older kids or family friends come to stay, they can be on a different level, so it doesn't feel like you're living with them but adjacent to them."
For empty-nesters anxious about farewelling a sense of space, Paragon of Pyrmont offers much to soothe the nerves. En suites feature decadent free-standing baths. Each bedroom has built-in wardrobes. There are wine cellars in the oversized garages and wine fridges upstairs.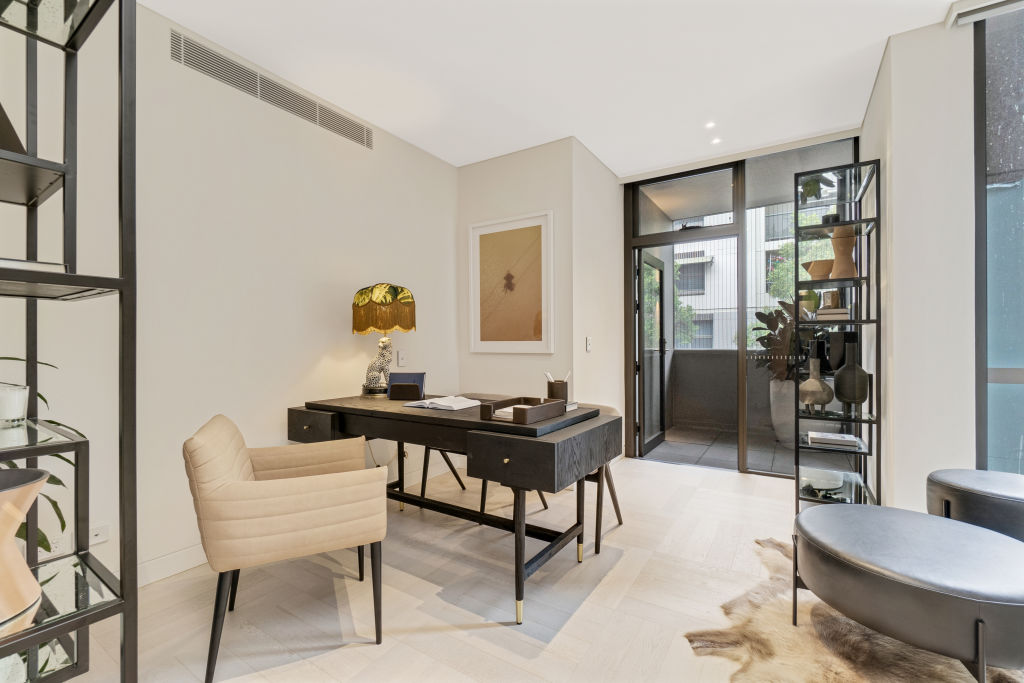 Third.i has a reputation for harnessing new technology in its projects (Iconic Apartments Waterloo, The Gentry Alexandria, Kurraba Residences at Kurraba Point). Paragon of Pyrmont is no exception, incorporating Tesla Powerwall batteries and home automation, allowing owners to control lights, blinds, security, access and airconditioning remotely.
For Haddow, the loveliest aspects of the new residences are the private roof terraces, complete with hydraulic watering systems for lock-up-and-leave convenience.
"Being able to be up there amongst this garden is pretty unique in the city," he says. "I've got a rooftop garden, and it's really fantastic to feel connected to the landscape."
When Third.i enlisted the design smarts of SJB architects and Richards Stanisich interior designers five years ago; they had no way of knowing a once-in-a-century pandemic was just around the corner.
Luke Berry, Third.i's director of sales and marketing, says feedback from buyers is that terrace homes offer the kind of separation between spaces that's ideal for the new normal.
"We had no idea about COVID or the impacts of working from home or lockdown living," Berry says, "but the feedback we're getting is that families can spread themselves out across three or four floors, including that private rooftop where you can go and get great sun and good elevation. For inner-city living, it ticks every box."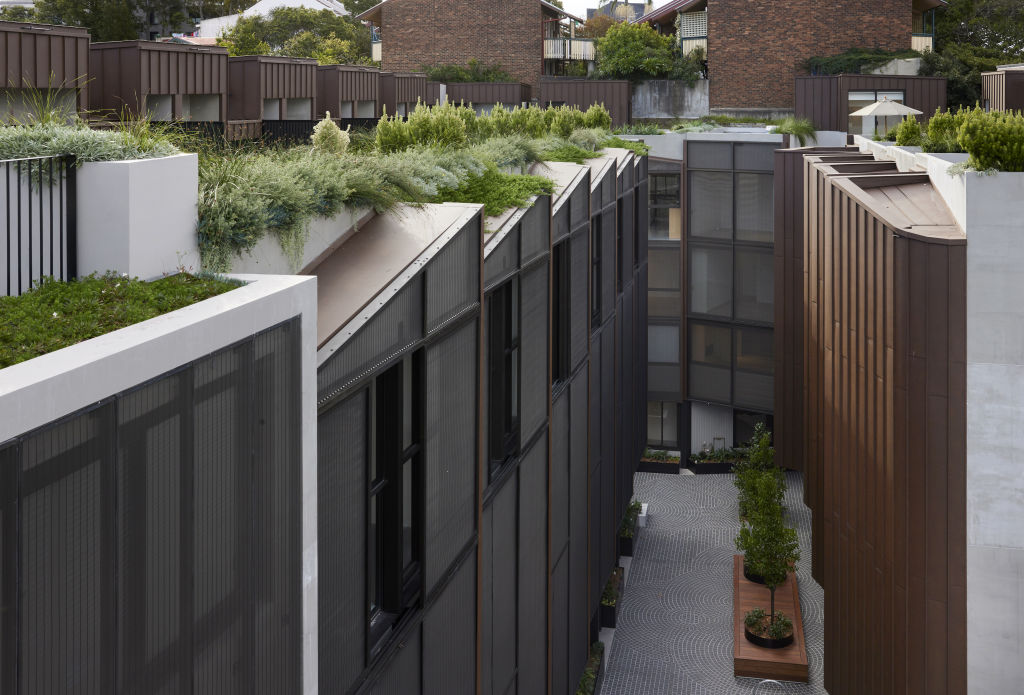 Beyond the Paragon of Pyrmont precinct boundary, the gentrified neighbourhood is spoilt for choice with dining and entertainment options, from hole-in-the-wall cafes to posh pubs and fine dining. The casino's dizzying array of entertainment and food options is two blocks away.
It takes less than 20 minutes to walk across Pyrmont Bridge to the Queen Victoria Building and Pitt Street Mall. Chinatown, Darling Harbour and Barangaroo's buzzy new bars and restaurants are also within easy reach.
On the opposite side of Pyrmont, the Sydney Fish Market has been earmarked for a glamorous revamp that will introduce new open spaces and pave the way for a waterfront path from Blackwattle Bay all the way to Woolloomooloo.
Berry says the terraces and apartments have appealed to downsizers from around Sydney, as well as younger professionals and people who love inner-city living. The future Pyrmont metro station is another big drawcard.
"The area is really coming to life."